Celebrate Cinco de Mayo from home with these Mexican food staples (with a Cajun twist) that pay homage to classic recipes and make for the perfect celebratory meal! Be sure to check all restaurant websites for take out or delivery specifics. 
Elsie's Plate and Pie 
On the Menu: Crawfish Queso
Elsie's Plate and Pie is known for their homestyle pies and specialty sauces and flavors (the blueberry pepper jelly is to die for!). The game changer lies in their Cajun Crawfish Queso. Served with pork rinds instead of chips, this classic appetizer with an added Louisiana flair will  get you in the spirit of Cinco de Mayo.
Don's Seafood
On the Menu: Crawfish Quesadillas and Zydeco Shrimp Taceauxs
Don's Seafood prides itself on being Louisiana owned and operated. In all of its seafood dishes, their crawfish quesadillas and Zydeco shrimp "taceauxs" shine through as a fusion between Cajun and Mexican food. The quesadillas are packed with Louisiana crawfish tails and andouille sausage, while the fried shrimp taceauxs are covered in their own pepper jelly sauce.
 
Mestizo
On the Menu: Cajun Quesadillas and Tacos
Mestizo is known for its Louisiana Mexican cuisine. Some of their most popular dishes make for the ideal Cinco de Mayo meal: shrimp and crab quesadillas, duck tacos, or two crawfish tacos. 
Caliente
On the Menu: Fajita Po'boy
Caliente is combining two cultural classics to create the Fajita Po'Boy! Beloved Po'boy bread with delicious chicken and steak makes for a sandwich that is worth trying for your Cinco de Mayo celebration!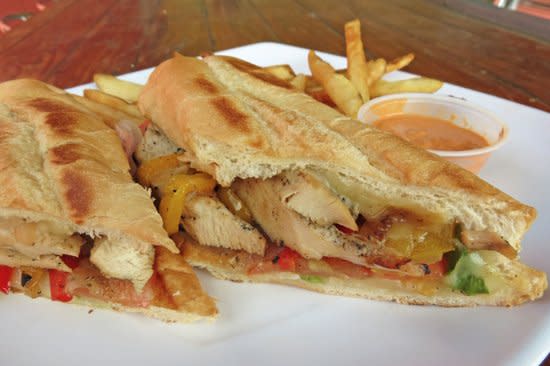 This photo of Caliente Mexican Craving is courtesy of Tripadvisor
Superior Grill
On the Menu: Margaritas and Seafood Enchiladas
Superior Grill is well-known and well-loved in the Capital City. Famous for its margaritas especially, Superior also offers many Louisiana-based dishes. The seafood enchiladas make for a celebration-worthy dish on any given day!!

No matter how you choose to spend the day, these dishes make the perfect choice for celebrating! Tag #ExploreBatonRouge to let us know what's on your plate, and check out visitbatonrouge.com/restaurants for more restaurant options.