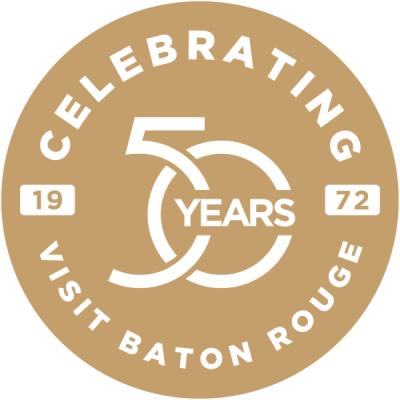 FOR IMMEDIATE RELEASE
January 27, 2022

Contact:
Tamaria Williams, Communications Specialist
tamaria@visitbatonrouge.com
225-382-3577

Visit Baton Rouge celebrates 50th anniversary of serving the East Baton Rouge Parish

BATON ROUGE, La. – Visit Baton Rouge, the Destination Marketing Organization (DMO) for Louisiana's Capital City, is proud to announce its 50th anniversary. As the sole tourism agency for East Baton Rouge Parish, Visit Baton Rouge will celebrate the past five decades of promoting East Baton Rouge Parish as a travel and tourism destination as we look forward to the changes that the industry is beginning to see.

Since 1972, Visit Baton Rouge has helped promote local businesses, provide marketing and sales resources to local partners, attract visitors from around the world, and helped host major events to boost economic impact to the city. The DMO has seen several obstacles along the way, such as major floods, hurricanes, and the effects of the ongoing COVID-19 pandemic. Throughout the challenges, Baton Rouge has adapted to safely continue being a host city for major events in previous years, such as the Bayou Country Superfest, the Marucci World Series, Miss USA in 2015, and this April, Garth Brooks' Stadium Tour at Tiger Stadium.

"The impact that we've had on this city has been a reward of its own," said Paul Arrigo, President and CEO of Visit Baton Rouge. "It has been an absolute honor to serve as Visit Baton Rouge's President and CEO for nearly 20 years. We're known for being an effective organization that knows how to get the job done, no matter what the circumstances are. We've always managed to excel in our roles here, and I couldn't be more excited and proud of our team that we're celebrating 50 years of serving this community."

To commemorate five decades of the DMO, Visit Baton Rouge has several events lined up for the year-long celebration. Visit Baton Rouge has debuted a new mural that now sits on the side of the office. The plan of the design was to capture the true essence of Baton Rouge's unique culture. It highlights different areas of Baton Rouge as well as various attractions, LSU, Southern University, and Mardi Gras season.

To get the job done for the wall art, Visit Baton Rouge sought out the Greater Baton Rouge Arts Council for creative artists suggestions to paint the mural. Eventually, artist Kayla Newman was enlisted to paint the piece that now serves as an insta-worthy background for locals and visitors alike.

"It has everything to do with all things Baton Rouge," said Newman about the design of the mural. "Each letter represents a different historic or prominent part of Baton Rouge and hopefully encompasses the feeling of the city. It's just representative of everything that is here and what makes Baton Rouge fun and awesome and unique."

Newman's the founder and creator of Out There Murals, a cross country mural project that's allowed Visit Baton Rouge to be a part of a national art project. She plans to paint murals in all 50 states over the next three years.

Visit Baton Rouge has introduced a signature cocktail in hopes of keeping the celebration of promoting Louisiana's capital city alive for many years to come. The Capital Cocktail, created by Aaron Bertand of the Bourbon Society of Baton Rouge, is bourbon-based and ties in a taste of Baton Rouge by using Louisiana molasses and honey. Similar in taste to an Old Fashion, the Capital Cocktail is quite tasty and will be served with a custom red stick souvenir stir. Visit Baton Rouge collaborated with Fistful of Bourbon and Republic National Distributing Company to ensure the Capital Cocktail is widely available. Placement efforts have begun, and participating establishments will be listed on our website.

Later in the year, Visit Baton Rouge will launch a new interactive website created by Simpleview that will include user-friendly features and an overall brand new design. The launch date of the website will be revealed in the coming months as well as more details.

Our 50th anniversary plans will coincide with National Travel and Tourism Week that's slated for May 1st – 7th. The annual week-long tradition allows travel and tourism professionals to celebrate the value travel holds for our economy, businesses, and personal well-being. As Visit Baton Rouge has done over the past 50 years, we will continue our sponsorship of multiple festivals and events planned for the year, including the Louisiana Marathon, annual Mardi Gras festivals and the Baton Rouge Blues Festival.

About Visit Baton Rouge
The mission of Visit Baton Rouge is to increase visitation to and awareness of the Baton Rouge Area, therefore enhancing economic impact. For more information, log onto www.VisitBatonRouge.com to access all Baton Rouge press releases, log onto VisitBatonRouge.com/media/press-releases.