For Immediate Release
October 18, 2023
Contact:
Tamaria Williams                                                                                        Emmie Fusion
Visit Baton Rouge                                                                                      Louisiana Travel Association
225-382-3577                                                                                            emmie@louisianatravelassociation.org
The Bullfish Bistro's Angel Lombrage and Rouj Creole's Frederic Terluin bring a taste of Baton Rouge to Dallas
Local Chefs are 2 of 17 Louisiana Chefs Selected to Participate in Culinary Event this month  
BATON ROUGE, La. – Chefs Angel Lombrage and Frederic Terluin are two of 17 top Louisiana chefs heading to Dallas this month to feature the state's unique flavors in several of the area's top restaurants. Visit Baton Rouge, the Louisiana Travel Association, the Louisiana Office of Tourism and the Louisiana Seafood Promotion & Marketing Board have partnered to present "Louisiana Goes Lone Star" on Wednesday, October 25, 2023 as part of the Louisiana Culinary Trails tourism marketing campaign.
Boasting an exciting food and beverage scene, Dallas is an important regional destination and a savory opportunity to showcase the diverse culinary delights of our state. The epicurean experience of the Bayou State goes beyond just eating and drinking; it is a driving force among Louisiana events and culture. Louisiana Culinary Trails and the premier lineup of top chefs are excited to inspire travel and give Dallasites a taste of what awaits them across the Texas-Louisiana border.
"Food is a way of life in Louisiana. We plan our festivals and events around the culinary seasons, and we are excited to bring a taste to Dallas next month," says Louisiana Travel Association president and CEO Chris Landry. "As a neighboring state, destinations around Louisiana are a short drive or direct flight from Dallas. We are excited to have 17 Louisiana chefs in restaurants around the city to whet locals' appetites and inspire them to make Louisiana their next travel destination." 
Prior to the restaurant night, Visit Baton Rouge will also be attending the Restaurant Night Media Preview reception, where the Louisiana chefs will prepare the state's delicious cuisine with our fresh seafood featured for key influencers, encouraging media to write about the Louisiana culinary experience.
Meet the chefs that will be representing Baton Rouge: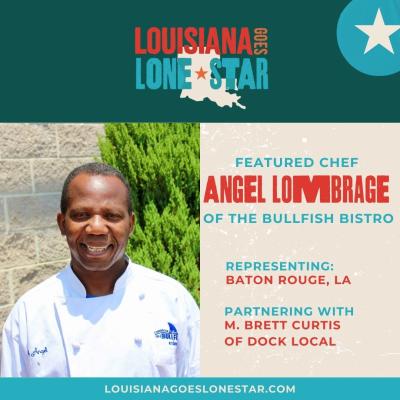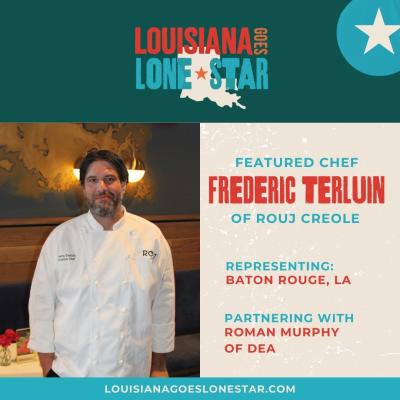 Chef Angel discovered his love for food through the vibrant and aromatic dishes of his Haitian heritage. Receiving his training at Johnson & Wales University and gained his experience with prominent brands such as Ruth's Chris and Voodoo Barbecue, Chef Angel eventually set out on his own culinary adventure, opening The Bullfish Bistro. This restaurant became the culmination of his life's work, showcasing the combination of fresh Caribbean herbs and the rich Cajun spice to create a symphony of flavors that delight the senses.
Chef Frederic Terluin's culinary journey has been shaped by the inspiring flavors of contemporary American cuisine, the finesse of nouvelle French, and the richness of Mediterranean gastronomy. During his impressive career, Terluin has left an indelible mark on some of the finest establishments including Peristyle and Herbsaint in New Orleans. With each step of his culinary voyage, Chef Frederic Terluin brings an unwavering passion for innovation and an unyielding dedication to creating remarkable dining experiences.
Other participating chefs include:
Ross Dover, Palmettos on the Bayou, The Northshore
Owen Hohl, Hot Tails Restaurants, Louisiana
Holly Goetting, Charley G's, Lafayette
Anthony Felan, Fat Calf Brasserie, Shreveport-Bossier
Richard & Lori Hurst, Poor Boy's Riverside Inn, Lafayette
Keith & Nealy Frentz, LOLA, The Northshore 
Damien "Chapeaux" Chapman, Orlandeaux's Café, Shreveport-Bossier
Ana Castro, Lengua Madre, New Orleans
Lyle Broussard, L'Auberge Casino Resort, Lake Charles
Jeremy Langlois, Latil's Landing at Houmas House, Ascension Parish
Jason Derouen, Bayou Country Crawfish Trail, Houma
Desi Bourgeois, Grown and Grazed, Ruston
Brent Daigle, Grady V's, Louisiana Cajun Bayou
Grayling Thibodeaux, St. John Restaurant, St. Martin Parish
For more information on the event, visit the event website: www.louisianagoeslonestar.com.
###
About Visit Baton Rouge
Visit Baton Rouge is the designated Destination Marketing Organization (DMO) for East Baton Rouge Parish, responsible for promoting and showcasing the region. Our primary mission is to increase visitation to and awareness of the Baton Rouge Area thereby enhancing economic impact. Stay up to date with the latest press releases and Baton Rouge tourism news at visitbatonrouge.com/media/press-releases. Join our social media community and follow us @visitbatonrouge for more updates.
About Louisiana Culinary Trails
Louisiana Culinary Trails is the collaborative efforts of the Louisiana Travel Association and its partners, offering appetizing getaways and promoting Louisiana by way of its unique culinary scene. Louisiana Culinary Trails takes to the road, showcasing the diverse food experiences throughout the state in major cities across the country. Louisiana Culinary Trails inspires travelers by highlighting the accessibility and epicurean journeys awaiting exploration throughout the state, facilitated by Louisiana tourism and neighboring communities. 
For more information about the Louisiana Culinary Trails program, visit explorelouisiana.com/culinary, and follow Louisiana Culinary Trails on Instagram, Facebook, and Twitter.