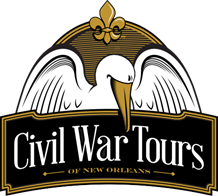 160TH ANNIVERSARY BATTLE OF BATON ROUGE BUS TOUR
Baton Rouge, LA, July 18, 2022 - Civil War Tours of New Orleans / Blue, Gray & Bayous is hosting a special 160th anniversary four hour-long guided bus tour on Saturday, August 6th, for the Battle of Baton Rouge.
Fought on August 5th, 1862, the Battle of Baton Rouge was a Civil War battle where the Confederate army, lead by former United States Vice-President, John Breckenridge, attempted to capture Baton Rouge, which was under occupation by the Union army.
Although a small battle by Civil War standards, when compared to battles such as Gettysburg and Chickamauga, the Battle of Baton Rouge is significant in that if not for that battle, the Confederate army would not have moved to fortify Port Hudson, and without Port Hudson, there could have been no siege of Vicksburg.
Today, the battlefield that was the Battle of Baton Rouge has been lost to urban sprawl, but two features from that battlefield still survive; Magnolia and St. Joseph Cemetery. Every day, people drive, live, and work on a Civil War battlefield in Mid-City Baton Rouge and don't know it. This bus tour will take guests to locations all around Baton Rouge, where a local historian will explain and discuss the battle, and the events that took place at those locations.
For more information, or to purchase tickets, go to www.civilwarnola.com.
###
334 ST. JOSEPH STREET BATON ROUGE NCLARK@CIVILWARNOLA.COM (504) 909 -1862